BC FORUM News
December, 2019
Sister Marion Pollack, BC FORUM Board member, is the CLC's 2019 Carol McGregor Disability Rights Award winner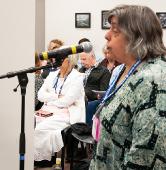 Sister Marion Pollack, CUPW member and member of the BC FORUM Board of Directors, is the Canadian Labour Congress' 2019 recipient of the Carol McGregor Disability Rights Award winner (shown left at the 2019 BC FORUM AGM).
In a letter sent by CLC president Hassan Yussuff and Executive Vice President Larry Rousseau, they stated, "Your work, as a trade unionist, a feminist and a disability rights activist, has made an enormous difference. At the Canadian Union of Postal Workers, you worked hard every day to educate those around you about disability rights and ensured the rights of workers with disabilities were respected in all workplaces. Your tireless efforts have continued into retirement, and your commitment to ensuring the most marginalized in our community have a voice and are included is a real inspiration.
"Your nominator pointed to your work to ensure a buddy system for fire drills and evacuation measures at Canada Post, ensuring better safety measures for Deaf persons. They also noted your successful campaign to make TransLink services more accessible by removing the requirement to tap the compass card. We know this is just an example of the many issues you have worked on. It is clear that your lifetime of advocacy and activism have transformed the communities and workplaces you have been a part of to be more accessible to all.
"Without a doubt, your leadership as a lifetime champion for disability rights has helped build a labour movement in our country that is more inclusive of all abilities.
"In the words of your nominator, "I cannot think of a more deserving person for this award, as she has dedicated her life to the struggles of persons with disabilities and educating society as a whole on these issues." We could not agree more."
The BC FORUM Board of Directors joins with Brothers Yussuff and Rousseau in congratulating Sister Marion Pollack and thanks her for her leadership and activism for disability rights and inclusion.