BC FORUM News - find out more about the Canadian Health Coalition
November, 2018
Canadian Health Coalition E-News
From the Fall 2018 Edition
Calling for a National Seniors Care Strategy
On November 5, 2018, we launched our policy paper, "Ensuring Quality Care For All Seniors".
Most Canadians will rely on seniors care at some point in their lives. Our public health care system is currently ill-equipped to address the health care needs of the aging population. We need a National Seniors Care Strategy to ensure that all seniors can access quality care, regardless of where they live in Canada. This strategy must ensure consistent funding, standards of care and staffing levels across the country. All Canadians deserve to age with dignity and respect.
Update from the B.C. Court House
In mid-September, the owner and CEO of Cambie Surgeries Corporation, Dr. Brian Day, took the stand to fight the ban on extra-billing and private insurance in British Columbia. During his three days of testimony, he repeatedly contradicted himself and avoided the government's questions. The government's lawyer ultimately accused Day of fraudulent billing practices at his private clinic.·
We believe Day's contradictory statements show that he has been double-billing, and that he wants the freedom to continue doing so. Day launched this law suit to defend himself from prosecution. In the process, he is threatening the future of public health care in Canada.
Canada's public health care system ensures that care is provided based on people's needs, not on their ability to pay. This requires that everyone be covered by the same public insurance system, regardless of their health status or income. Medically necessary services must only be paid for by public insurance. We will continue to watch this trial closely and work to protect these vital principles. Read more about the trial and our updates from the court house here.·
Growing Support for the Voluntary Blood Donations Act (Bill S-252)
Blood plasma is the first body part that has been allowed for sale in Canada. Paid plasma donations are threatening the safety and sustainability of Canada's blood supply.·Quebec, Ontario, Alberta and B.C. have banned payment for blood and plasma donations. A federal bill to ban paid blood and plasma across the country is now before the Standing Committee on Social Affairs, Science and Technology. The CHC participated in a lobby day on Parliament Hill on October 30th to raise awareness among Senators and Members of Parliament about this important legislation. Learn more about this issue and show your support for voluntary blood donations here.
The Pharmacare Campaign Continues
Over 80 national, provincial and territorial organizations agree·that Canada needs a single-payer pharmacare plan that is universal, public, accessible, comprehensive and portable. It's wonderful to have consensus among pharmacare advocates about the principles that must underpin this important new national program.
September was a very busy month on this campaign. The CHC filed its submission to the Advisory Council on the Implementation of National Pharmacare. CHC Board Member Keith Newman was invited to present in front of the House of Commons' Finance Committee to speak about the financing of pharmacare. You can listen to his presentation here. CHC Chair Pauline Worsfold presented to the National Pensioners Federation in Regina, Sask. CHC National Director of Operations and Projects Amelie Baillargeon presented to Unifor's Health Care committee in Halifax, NS.·
We would like to thank everyone who took the time to participate in the federal government's consultation on pharmacare over the summer! We expect the Advisory Council report to be released in the spring.
Upcoming Events & Reading Material
Public Plenary in Ottawa Nov. 30, 2018
The CHC and the Research Centre for Social Innovation and Transformation at Saint Paul University will be hosting the panel·Looking Back and Moving Forward: Building a Pro-Public Health Movement for All·on Friday, November 30th from 6-9 PM, at 95 Clegg St. Ottawa.·
Everyone is invited to join us for a dynamic discussion with leading researchers on building an inclusive and pro-public health movement for all. RSVP and more details here.
40th Anniversary Poster Competition
We are inviting artists of all ages to mark our 40th anniversary by designing a poster that illustrates the importance of protecting and expanding public health care in Canada. The designer of the winning poster will receive a cash prize. The CHC will use the poster to promote activities surrounding our anniversary.·
Find out·how to send us your submission here. Make sure to share this information with artists you know.·
Interesting reads
For a third consecutive year, the CHC contributed to the health care chapter of the Canadian Center for Policy Alternatives (CCPA)'s Alternative Federal Budget.·
CHC Board Member Keith Newman wrote about the economics of pharmacare in the opinion piece "National pharmacare simply makes cents", which was published in the summer edition of Ottawa Life Magazine.
Getting Ready to Mark Our 40th Anniversary!·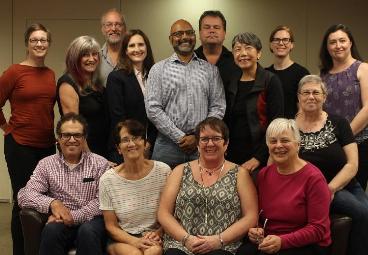 2019 will mark the CHC's 40th anniversary! Our board, staff and volunteers are·hard at work developing ambitious projects and activities to celebrate our accomplishments.·
Meet those responsible for the CHC's great work. From left to right, at the back:·Melanie Benard, CHC's new National Director of Policy and Advocacy;·Pat Van Horne, United Steelworkers;·Keith Newman, CURC;·Professor Vanessa Gruben, University of Ottawa;·Anil Naidoo, NUPGE;·Andy Savela, Unifor;·Elizabeth Kwan, Canadian Labour Congress;·Amanda Vyce, CUPE;·Kathy Stewart, accountant;·Amélie Baillargeon, National Director of Operations and Projects. At the front:·Fernando Reis, UFCW;·Julie White, Secretary (CURC);·Pauline Worsfold, Chair (CFNU);·Dr. Michele Brill-Edwards. Missing from the picture:·Sandra Azocar, Friends of Medicare;·Rita Morbia, Treasurer (Inter Pares);·Morna Ballantyne, PSAC;·Andrea Furlong, Council of Canadians;·Linda McLaren, United Church of Canada;·Professor Pat Armstrong;·Dr. Joel Lexchin.