BC FORUM News - from the Canadian Medical Association
March, 2020
A message from the Canadian Medical Association - Help flatten the curve and keep Canadians safe
March, 2020 - As governments at all levels come together with health care providers and community partners to reduce the impact of COVID-19, we wanted to reach out and remind you of the things you can do to help "flatten the curve" and keep Canadians safe.

First and foremost, in this age of widespread information-sharing, be sure you're getting updates from trusted health care leaders like the Chief Public Health Officer of Canada, Dr. Theresa Tam, and relying on approved sources like Canada.ca's Coronavirus resource page for how you and your family should respond.

Second, if you or someone in your household start displaying symptoms of COVID-19 (the most common are cough, fever and difficulty breathing) or suspect you may have come in contact with someone displaying symptoms, you should self-isolate immediately and contact your health care provider or local health care authority to determine what your next steps should be given your specific situation. 

Even if you are not displaying symptoms, there are things all Canadians can do to help flatten the curve and reduce risk to others.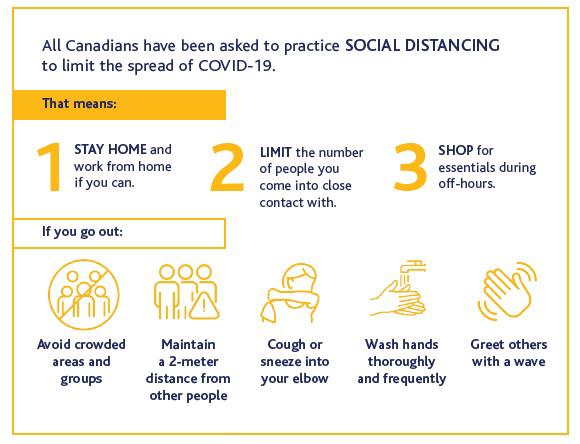 CMA has launched a public awareness campaign, and created a one-page handout about COVID-19 symptoms and spread. CMA has also created a COVID-19 webpage to share the most relevant information and resources.
For Canadians over the age of 65 or Canadians with compromised immune systems or underlying medical conditions, there is an increased risk associated with contracting COVID-19. Canada's public health agency has recommended that individuals falling into these categories self-isolate and take additional precautions. If you are caring for someone who falls into one of these groups, Canada.ca has created a resource page to help guide ongoing care.
For more information on what you can do to help flatten the curve and to assist our country's response to COVID-19, please visit Canada.ca's resource page. We encourage you to stay up to date with the latest developments and recommendations from Canada's health leaders.
From all of us at the CMA, please stay safe and thank you again for your ongoing support.