BC FORUM News
November, 2018
Diane Wood receives the Joy Langan Award
at the BC Fed Convention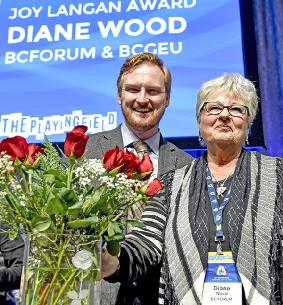 This year's recipient of the Joy Langan Award is Diane Wood, a longtime labour leader who began her activism in 1971 with the BCGEU and played a large part in Operation Solidarity, negotiating breakthrough collective agreement clauses for women in the public service and in advancing women's participation in her union and the labour movement as a whole.
In addition to a full career with the BCGEU, Wood has spent years doing international work and playing a leading role in BC FORUM.
The Joy Langan Award is presented at every BCFED Constitutional Convention. Joy Langan was a dedicated and loyal leader, feminist, mentor, tireless volunteer, champion and political leader. She was active in her union, the BCFED, her community and the NDP.
Diane is shown in the photo above with outgoing BC Fed Secretary-Treasurer Aaran Eckman after being presented with a bouquet of roses.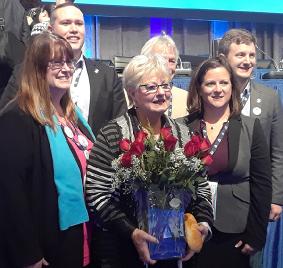 Diane Wood, BC FORUM President with the BCGEU Executive Officers who nominated her for the Joy Langan Social Justice Award. Photo taken by Gudrun Langolf, COSCOBC President.