BC FORUM News - from The Advocate, Spring 2018
Spring 2018 issue of BC FORUM's news magazine,
The Advocate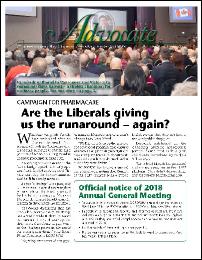 Download the Spring 2018 issue of The Advocate here.
A selection of articles from this issue of The Advocate:
CAMPAIGN FOR PHARMACARE: Are the Liberals giving us the runaround – again?
Seniors Advocate highlights concerns
Moving quickly to strengthen public health care for people
DEPRESCRIBING – Are you taking too many drugs?