BC FORUM News - from The Advocate, Summer 2018
Summer 2018 issue of BC FORUM's news magazine,
The Advocate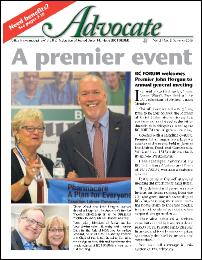 Download the Summer 2018 issue of The Advocate here.
A selection of articles from this issue of The Advocate:
A premier event + Working together to put people first in a better BC
We've made gains but there's still much to do, by Diane Wood, President BC FORUM
Union Protein Project has a "huge year"
Volunteer positions at BC FORUM
Need benefits? See Benefits information starting on page 7.