BC FORUM News - from The Advocate, Autumn 2019
Autumn 2019 issue of BC FORUM's news magazine,
The Advocate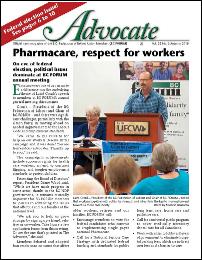 Download the Autumn 2019 issue of The Advocate here.
A selection of articles from this issue of The Advocate:
Pharmacare, respect for workers; On eve of federal election, political issues dominate at BC FORUM annual meeting
Who will stand up for you? By Laird Cronk, Chair, BC FORUM; President, BC Federation of Labour
Hope for home support By Stephanie Smith, President, B.C. Government and Service Employees' Union
ELECTION 2019: Financial security for seniors
ELECTION 2019: After all these years, why still no Pharmacare?
ELECTION 2019: A plan for an aging Canada
Retirement planning workshops, By Sam Wiese, Vice-President, BC FORUM
Wherever you are on Oct. 21, you can vote