BC FORUM News - from The Advocate, Summer 2019
Summer 2019 issue of BC FORUM's news magazine,
The Advocate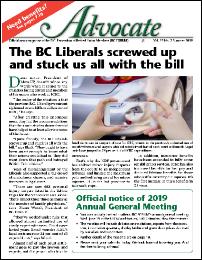 Download the Summer 2019 issue of The Advocate here.
A selection of articles from this issue of The Advocate:
The BC Liberals screwed up and we're all paying for it
Better. Stronger. Together., by Diane Wood, President, BC FORUM
Making home support an integral part of health care
Singh makes history with parliamentary debut
Home adaptation grants for safe and independent living
Need benefits? See Benefits information starting on page 7.