BC FORUM News
Autumn 2021 issue of BC FORUM's news magazine,
The Advocate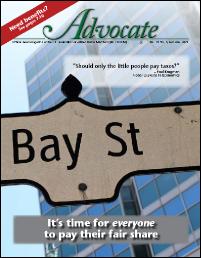 Download the Autumn 2021 issue of The Advocate here.
In this edition: The "snap" election that everyone has been expecting for months is finally underway, with huge issues to be de-cided by voters. Other elections have been conducted safely during the pandemic, but not while cases were surging due to the highly contagious Delta variant.
We urge you to weigh the issues carefully, to cast your ballot, and to stay safe while you make your voice heard.
In this issue, we highlight some of the key questions we face, including whether the ultra-rich should continue to avoid paying their fare share of taxes.
A selection of articles from the Autumn 2021 issue of The Advocate:
FROM THE PRESIDENT From crisis to crisis to crisis to an election
• Corporations and the wealthy have been getting a free ride while we pay the bill
• The crisis is here. It's time to stop fiddling.
BC FORUM BENEFITS PLANS - coverage arranged through WE CAUS Consulting & Benefits Services Ltd. - as appearing in the Autumn, 2021 issue of The Advocate.