BC FORUM News - from The Advocate, October, 2014
October, 2014 issue of The Advocate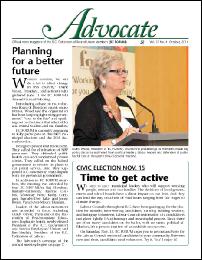 Download October 2014 issue of The Advocate here.
A selection of articles from this issue of The Advocate:
Paying Tribute to the late Gerry Edwards: "The Dream Never Dies", by Diane Wood, President, BC FORUM
Planning for Retirement: What are you doing after work? BC FORUM offers pre-retirement planning courses
Working to protect and improve public health care for all Canadians - by JoAnn Lauber, from the National Pensioners Federation Convention, Saskatoon, September, 2014
Take the survey today!
Sheesh - what's next? Now Canada Post wants a note from your doctor, by Marion Pollack, BC FORUM Director
Why is Stephen Harper so afraid?, by Soren Bech, Editor, BC FORUM