BC FORUM News - From The Advocate, Special Edition 2020
PAGE 4
It's time for us to decide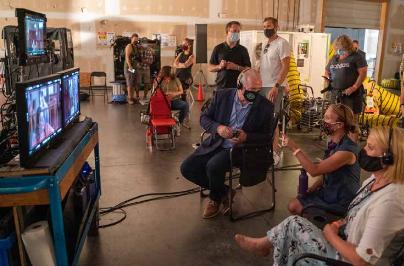 Premier John Horgan met with creators and producers Sept. 14 to mark the launch of a new Domestic Motion Picture Fund. "The past few months have shown us how quickly the motion picture industry can change," said Horgan. "This new fund will help B.C.'s domestic film industry create new content so it can recover faster, and get thousands of skilled workers involved in film and TV production back on set." The fund is part of the NDP's COVID-19 Action Plan.
The provincial election, says Premier John Horgan, is our opportunity to answer two important questions: Where do British Columbians want to go? And who do they want to lead them?
As leader of a minority government, Horgan said there is growing instability at a time when stability is required to deal with the challenges.
"We have 12 months remaining in the mandate of this government, but we have a four year project or longer ahead of us. We have had, as you know, through the summer, some challenges with passing legislation," he said.
"The stability that I believe we had over the course of our minority government is not as strong as it was when we began.
"The challenges of partisanship within the Legislature will always be there, but particularly this summer it was clear to me that there is a great divide between the two sides," he said.
"The best way forward is to allow those who no longer want to represent their communities because of long service. I know there are seven within my caucus, at least seven within the Liberal group and, of course, Mr. Weaver who are moving on.
"I believe, in my heart, that now is the time to have an election." Horgan noted that British Columbians have worked hard to "get on the right side" of the COVID- 19 pandemic.
"But we are far from out of the woods. We are not at the end of COVID-19. We're at the beginning, and it will be with us for a year or more," he said.
"Like a lot of things these days, this election is going to be different from the one we had three and a half years ago, but I know we can do it safely. And together, we can keep B.C. moving forward – not for the people at the top but for everyone," said Horgan.