BC FORUM News - From The Advocate, Special Edition 2020
PAGE 10
Here's what it looks like when
government works for people
Reducing inequality, creating opportunities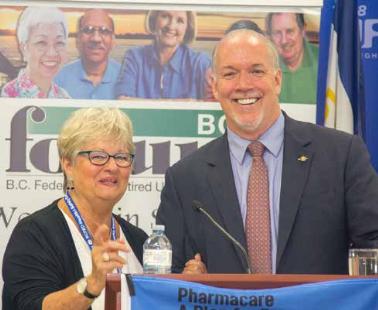 BC FORUM President Diane Wood shared a light moment with Premier John Horgan as she introduced him to members at BC FORUM's 2018 annual general meeting.
When the BC NDP took action to prevent a 4.5 percent rent increase and protect tenants from renovictions and demolitions, B.C. Liberal Leader Andrew Wilkinson accused them of "pandering" to tenants.
"They've put all kinds of restrictive caps on the behaviour of landlords around charging rents, long-term leases and renovation of apartments," Wilkinson said in the Legislature last year.
It's a remarkable illustration of the mind-set of a man who was part of a government that froze the minimum wage, welfare rates and disability allowances for the most vulnerable. For a decade.
In from the cold
The Horgan government moved quickly to end the freeze. The minimum wage has been steadily increased. By next year it will be $15.20 an hour. The discriminatory server wage will be eliminated. Welfare and disability rates have also been increased.
Fairer taxes
Big steps have been taken towards tax fairness with increased taxes on the highest income earners, and the elimination of MSP premiums and bridge tolls.
Fixing ICBC for drivers
The B.C. Liberals siphoned $1.2 billion from ICBC, throwing the company into chaos. Legislation passed this spring will provide better coverage and lower rates effective May 1, 2021.
In addition, B.C. will no longer be the only province with a litigation based model that costs us more than $1.5 billion a year.
Fixing long term care
Hundreds of millions are being spent to improve long term care by hiring thousands of care aides, expanding training opportunities and removing barriers to recruitment from other parts of Canada.
The government has also ensured that staff only work on one site, boosted wages during the pandemic, eliminated contract flipping to ensure continuity of care and moved to build new beds.
By comparison, the B.C. Liberals closed 3,000 long term care beds, encouraged privatization, and drove down wages, reducing the quality of care for the most vulnerable seniors in our province.
And much more
• Made B.C. the first province to fully recognize the UN Declaration on the Rights of Indigenous People.
• Strengthened child labour protection.
• Shifted home support in three health authorities from for-profit corporations, making it an integral part of public health care.
• Restored transit passes to people with disabilities.
• Created thousands of new licensed, affordable child care spaces.
• Froze runaway ferry rates and restored free travel for seniors.
• Moved ahead with new hospitals, renovation and expansion throughout the province.
• Adopted a plan to reduce poverty.