BC FORUM News
Winter 2021 issue of BC FORUM's news magazine,
The Advocate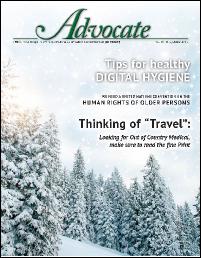 Download the Winter 2021 issue of The Advocate here.
In this edition: On behalf of the volunteer Directors and Regional Representatives of BC FORUM, we wish you a healthy and safe New Year. We look forward to working with you as we continue our efforts to improve the lives of retired workers, future retirees and our families. We have much to do. By sharing our experiences, by working together to push for change, by speaking out on important issues, we can help build a fairer, more civil society for all.
A selection of articles from the Winter 2021 issue of The Advocate:
FROM THE PRESIDENT: BC FORUM continues our advocacy work!
• Breaking the stranglehold of Big Pharma
• We need a United Nations convention on the human rights of older persons