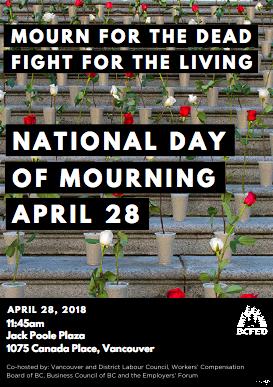 From Irene Lanzinger, president of the BC Federation of Labour:
Dear Friends,
Every year family, friends and community gather to commemorate the National Day of Mourning on April 28th as a day to remember workers killed because of their work and those who still suffer from work-related injury or illness.
Last year, 196 worker deaths were reported and 156 worker fatality claims were accepted by the Workers' Compensation Board. Each of these fallen workers has families, friends, and co-workers who are mourning the loss of their loved one, and surviving dependents needing support to survive the emotional and financial impacts of the loss.
Thousands more workers suffered disabling work-related injuries or disease and are struggling to cope with their health and the financial burden placed on them and their families.
It is for these reasons that the National Day of Mourning is also a call to action: to fight for the living by renewing our collective commitment to make our workplaces healthier and safer.
The information for the Vancouver ceremony is in the attached poster. For information about ceremonies across the province and to order posters, please go to BC's Day of Mourning website at www.dayofmourning.bc.ca. Check back regularly as the website is updated as we are made aware of other events. If you know of a ceremony that is not listed on the website, please contact Dianne Baker at dbaker@bcfed.ca with the details.
I encourage everyone to take the time to participate in a National Day of Mourning ceremony in your community.
Mourn for the Dead. Fight for the Living.
In solidarity,
IRENE LANZINGER
President