BC FORUM News
Multi-Union Pride Extends Welcome to BC FORUM Members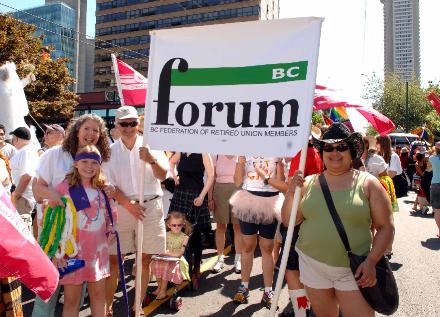 July, 2009 - Multi-Union Pride is welcoming all members of BC FORUM to join with them in this year's Vancouver Pride Parade.
Multi-Union Pride is a committee of labour activists organizing in our communities and workplaces on issues involving lesbian, gay, bi-sexual and transgendered workers.
Participants will muster on Sunday, August 2nd starting at 11 am. The parade route starts at Robson and Thurlow and proceeds down Robson to Denman, along Denman to Beach Avenue/Pacific Blvd. and terminates at Sunset Beach where the party continues with food, drink, music, booths, etc.
The Multi-Union Pride float position in the parade has traditionally been placed somewhere around the middle of all the entries. You can ask any Parade Marshall along the route prior to the parade starting and they will be able to give the position number and where participants are lining up. There will be t-shirts and bling to hand out, usually supplied from each participating union.
Join in the celebration of diversity, and bring your family, friends and co-workers. For more information, visit the Multi-Union Pride website at www.multiunionpride.ca.