BC FORUM News - From The Advocate, Summer 2018
A premier event
BC FORUM welcomes Premier John Horgan to annual general meeting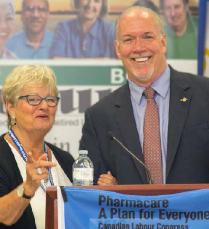 I am really excited today," said Diane Wood, President of the BC Federation of Retired Union Members.
"We all have waited a very long time to be able to host the Premier of British Columbia, and to say he's our Premier," said Wood as she introduced him to delegates attending the BC FORUM annual general meeting.
Greeted with a standing ovation, Premier John Horgan was a keynote speaker at the event, held in June at the United Food and Commercial Workers' Local 1518 conference facility in New Westminster.
Irene Lanzinger, President of the BC Federation of Labour and Chair of BC FORUM, was also a featured speaker.
Participants in the well attended meeting did much more than listen. They debated and passed six resolutions on issues ranging from the Chinese government's ownership of BC's largest non-government nursing home chain to the steps needed to protect workers' pensions when corporations go bankrupt.
They also adopted a revised constitution and bylaws, considered reports on BC FORUM's activities and finances, and took home door prizes generously donated by unions and supporters.