BC FORUM News - From The Advocate, Summer 2018
Union Protein Project has "a huge year"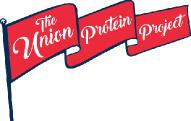 John Radosevic of the Union Protein Project says 2018 has been a huge year of growth in its efforts to provide needed protein to individuals who must rely on food banks.
"This year so far we've distributed about $800,000 worth of protein products into food banks across BC," Radosevic said at the BC FORUM annual general meeting.
"What that means, for me, is there's about 300,000 individuals who have got protein products through the food banks this year. That's 300,000 people who have got the message that the labour movement is involved in their community and cares about
"We've added tuna to the product line," said Radosevic. We had both salmon and peanut butter. Now we have tuna which is lucky because we're cut off from salmon this year because of lack of supply.
Radosevic said the Project is currently raising funds to hire a full time person "because not only are we expanding the project in BC, we're expanding into Alberta. In fact, we have our first delivery of about $160,000 worth going into the Alberta food banks – and we're looking forward to an expansion into Ontario by next year."
BC FORUM is a member of the Union Protein Project along with 36 other organizations.
"What BC FORUM does is to take around our signage and displays. BC FORUM is everywhere and is known by everyone, and everywhere BC FORUM goes it takes the Protein Project with it so it's getting real exposure for us," said Radosevic.