BC FORUM News
May, 2012 issue of The Advocate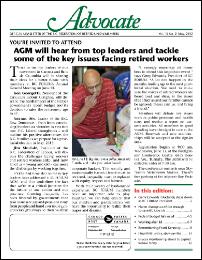 Download May 2012 issue of The Advocate here.
A selection of articles from this issue of The Advocate:
Harper may have fooled some people, some of the time...
Final Editorial by BC FORUM President Gerry Edwards
Hundreds pay tribute to Frank Kennedy
Former BC FORUM Director Frank Kennedy passes away.
Concerns mount over costly DriveABLE tests
Experts question validity of computer test; older drivers object to paying private company $300 plus HST to take it.