BC FORUM News from the Advocate, Summer 2017
UPDATE September, 2017: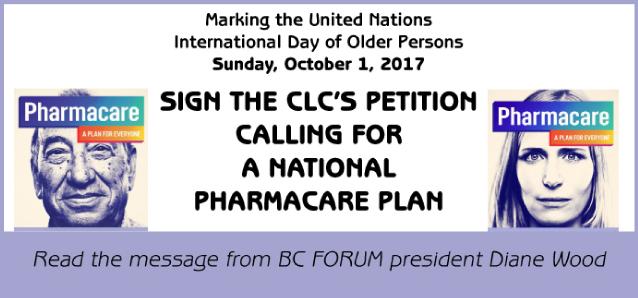 This year, join the celebration
By Agnes Jackman
BC FORUM Regional Representative and
Delegate to COSCO Council
COSCO (Council of Seniors' Citizens Organizations of BC) and its affiliates, including BC FORUM, are taking the lead in BC for the Seniors' Voice October 1 United Nations International Day of Older Persons (UN IDOP) campaign in conjunction with the Congress of Union Retirees of Canada and the National Pensioners' Federation.
The UN's 2017 theme is "Stepping into the Future: Tapping the Talents, Contributions and Participation of Older Persons in Society".
COSCO is once again sending out a letter to the councils of all BC municipalities, districts and townships, and to the BC provincial government asking that they make a proclamation/ declaration and/or raise the UN IDOP flag on October 1. As a proclamation has to be renewed each year while a declaration happens yearly automatically, one goal is to encourage declarations over proclamations where possible. Last year, COSCO was informed of 16 proclamations/ declarations and six flag raisings in BC for the 2016 UN IDOP.
The Seniors' Voice has put a toolkit on its website <www.seniorsvoice.org> for people to use when asking for a proclamations/declaration and a flag raising for the UN IDOP. A resource menu has been set up on this website that will include IDOP activities across Canada. People are encouraged to list any activity connected to celebrating seniors.
IDOP flags can be ordered on this site at $85 each. The deadline for ordering, in order to have them arrive in time for the day, is August 18.
It is my hope that observation of the UN IDOP will increase in coming years and that the recognition of the value of seniors and concern for their well-being will grow. If you would like your local government to make a proclamation/declaration and/or fly a flag in honour of the IDOP in 2017, let your council know and ask them to accept COSCO's 2017 invitation. Also, please post any IDOP seniors' events that you know of on the Seniors' Voice website.