BC FORUM Members in Action! 2017
BC FORUM members in action at union and community events
BC FORUM encourages members to take action on issues of importance - then let us know what you've done! Letters to the Editor, articles you have had published or any media you may have been involved with - send us a link or a copy of what you've done and we will list them here!
Members in Action Archives:
Members in Action 2016 | Members in Action 2015 | Members in Action 2014
Members in Action 2013 | Members in Action 2012 | Members in Action 2011
Members in Action 2010 | Members in Action 2009
---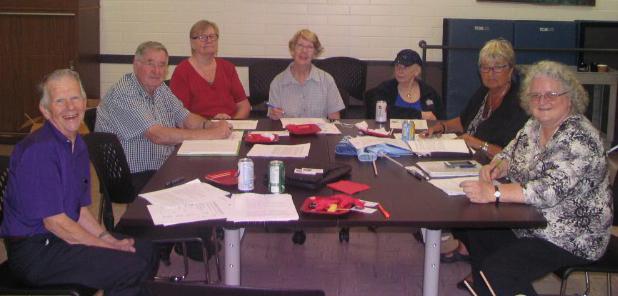 BC FORUM President Diane Wood with Regional Rep and VDLC delegate Agnes Jackman, both seated on the right, attend COSCO's Seniors Health & Wellness Institute Society's Board meeting in September
---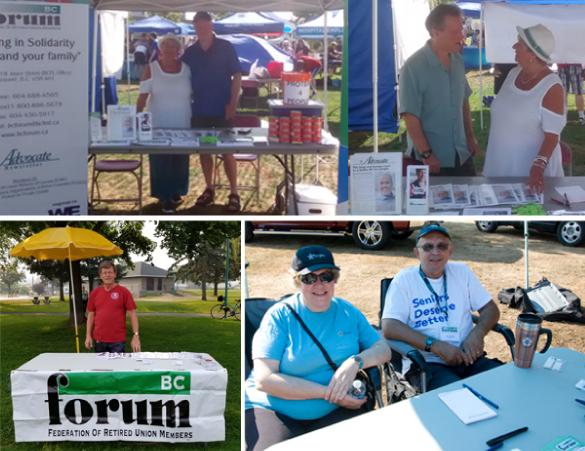 BC FORUM prominent at many Labour Day 2017 events!
Clockwise from top left: Diane Wood, BC FORUM president and Bill Silvester, vice-president were at the Labour Day event at Holland Park in Surrey organized by the New Westminster & District Labour Council as they were kept very busy with promoting membership in
BC FORUM; Diane Wood speaking with Honourable George Heyman, Minister of Environment and Climate Change Strategy and former president of BCGEU; in Abbotsford,
the 8th Annual Fraser Valley Labour Council Labour Day Picnic saw Gord Savard, BC FORUM Director, and Pamela Willingshofer, FVLC Rep, greet union members and their families;
and, in Kamloops, Mogens Jorgensen, Regional Rep & Labour Council delegate staffed the
BC FORUM display table.
---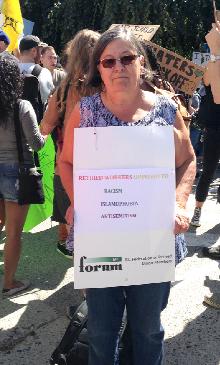 BC FORUM Regional Rep and delegate to the Vancouver & District Labour Council Sandy Bauer attended the anti-racism rally that took place in Vancouver in August. She commented about her rally sign in an email to BC FORUM, "I wanted to be more inclusive, hence 'RETIRED WORKERS OPPOSED TO RACISM ISLAMOPHOBIA ANTISEMITISM' in the colours of the Rainbow Flag."
---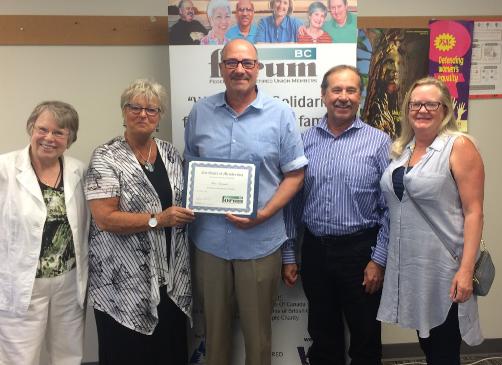 BC FORUM Life Membership was presented to Ken Georgetti, past President of the BC Federation of Labour & past Chairperson, BC FORUM, at the 2017 AGM. He is joined, from left, by Miriam Olney, Board Secretary; Diane Wood, President; Ken Georgetti; Dan Bradford, BC FORUM Treasurer; and, Sam Wiese, 2nd Vice President, BC FORUM.
---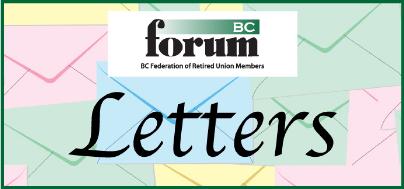 July, 2017 - BC FORUM has sent letters to both CUPE 1816 and to Pacific Blue Cross in regards to the employer lock-out and ongoing labour dispute.
---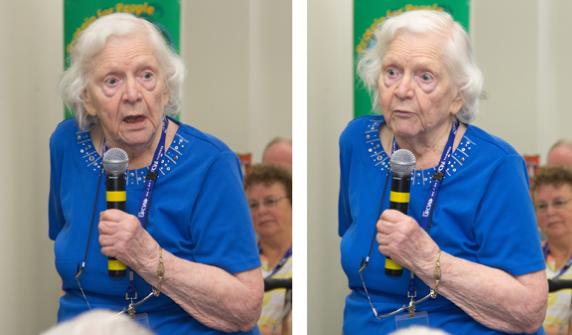 Alice West, past president of BC FORUM enthusiastically participates in the discussions
that took place at the AGM on June 21, 2017.
---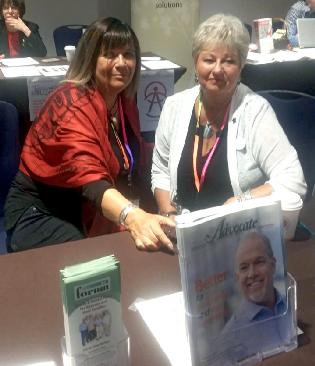 Holly Page, newly appointed BC FORUM Regional Representstive and BC FORUM
delegate to the Victoria Labour Council, visits with president Diane Wood at the BC FORUM booth at the BCGEU Convention, June, 2017.
---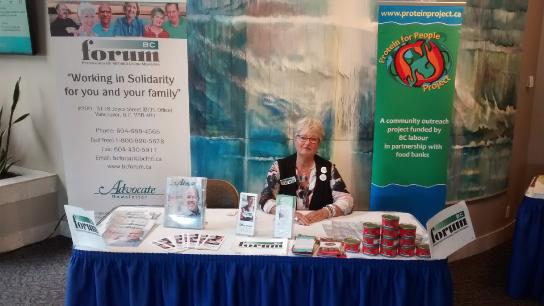 April, 2017 - BC FORUM president Diane Wood staffs the display booth
at the 2017 CUPE BC convention in Victoria.
---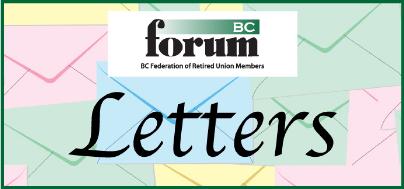 April, 2017 - BC FORUM sends letter to BC Minister of Health seeking province
to cover costs for seniors' shingles vaccine.
---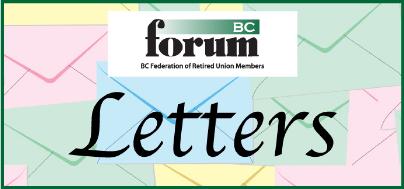 April, 2017 - Diane Wood, president BC FORUM, pens letter to Prime Minister Justin Trudeau
about OAS & CPP, asking to NOT raise age of eligibility.
---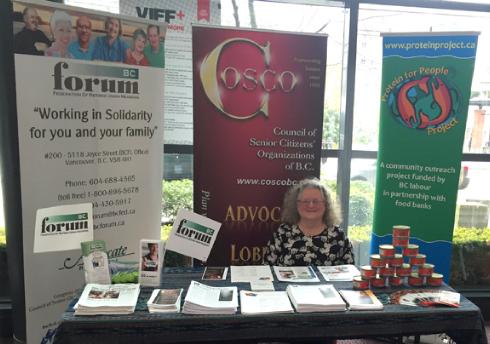 Sister Agnes Jackman, BC FORUM Regional Representative, staffs the display table at the JustFilm Festival 2017 Justice Bazaar at Vancity Theatre in Vancouver at the end of March.
---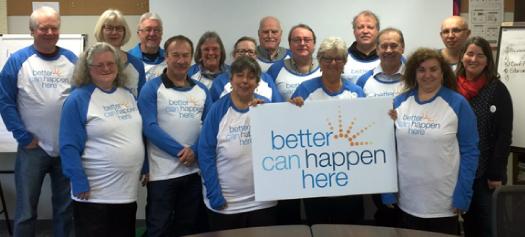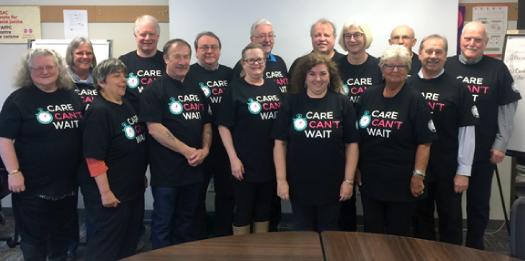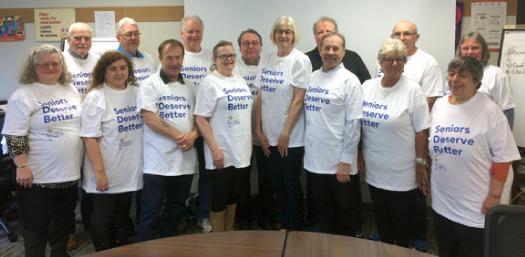 At their March 2017 meeting, BC FORUM Executive Directors show their support for the BC Fed's Better Can Happen Here, the HEU's Care Can't Wait and the BCGEU's Seniors Deserve Better campaigns.
---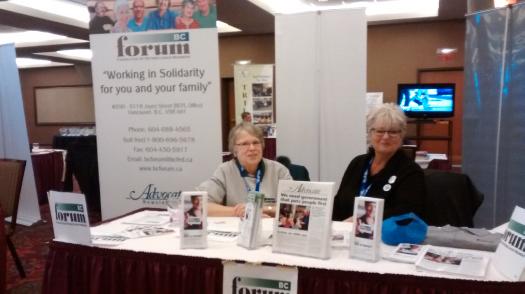 BC FORUM president Diane Wood with Miriam Olney, Secretary, at the BC FORUM booth at the Harrison Hot Springs CLC Pacific Region Winter School, January 2017.
---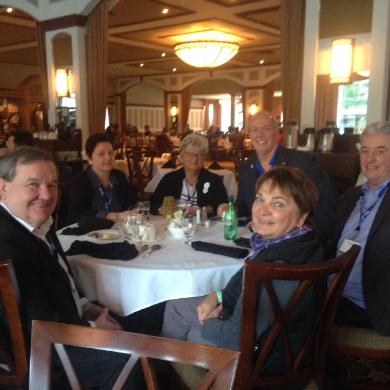 BC FORUM president Diane Wood at a luncheon meeting with BC NDP leader John Horgan, HSA president Val Avery, MLA Shane Simpson and others at the Harrison Hot Springs CLC Pacific Region Winter School, January 2017.
---

Help spread the word: Care Can't Wait - Demanding Better Funding for Seniors' Care.
---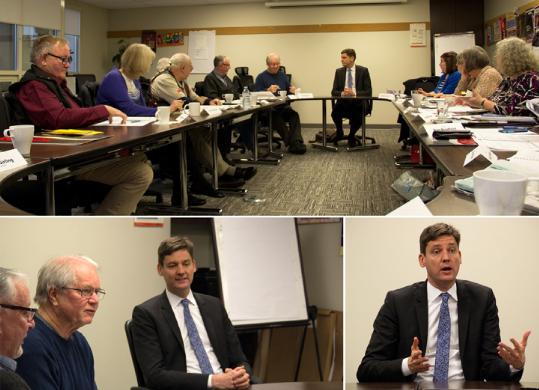 BC NDP MLA David Eby (Vancouver-Point Grey) attended the BC FORUM Board meeting on January 17, 2017. Photo by Soren Bech.
---